Issue 959 – Reflections – January 16, 2022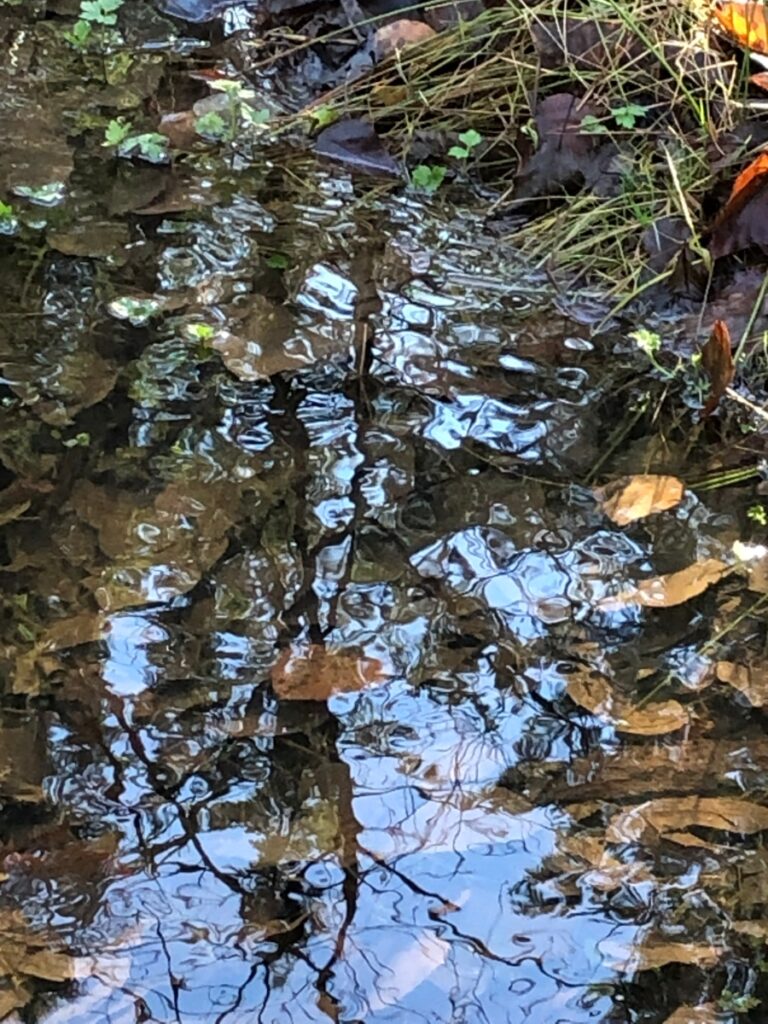 On Saturday. Kathy and I took two of our granddaughters for a stroll in Campbell Valley Park – South (west parking area) in Langley. Typically, we would walk the north trails, but being an unseasonably lovely Saturday, that area was packed with people, and there was no parking.
The trail was open and had nowhere near the bird life on the north side, but it still made for an enjoyable walk.
I took a quick snapshot of one of the many puddles and rivulets running alongside the pathway. It was only a few inches deep, but the puddle did catch some of the reflection from the trees and sky above and around it.
In reality, the trees and sky are much bigger and more impressive than what you see in the little puddle, but you get a sense of them. The ripples in the water distort the reflection a bit, but it comes through surprisingly clearly.
The reflection made me think of people as image bearers of God.
Then God said, "Let us make man in our image, after our likeness. And let them have dominion over the fish of the sea and over the birds of the heavens and over the livestock and over all the earth and over every creeping thing that creeps on the earth." So God created man in his own image, in the image of God he created him; male and female he created them. Genesis 1:26-27
Every man, woman and child ever born, or who will ever be born, is in some way created in the image of God. That includes the sweetest of saints and the vilest, most heinous of sinners. The people you love and hate are all created in the image of the Lord God Almighty.
That should give us pause to think about how we treat every person we encounter. The grouchy cashier we that to get at the store, the sign bearing homeless person on the corner, the addict we cross the street to avoid, and the person at church with the heretical doctrine all bear the stamp of God in some way. The person who cut you off in traffic and that relative who pushes all your buttons both carry His image in some form.
We might find it hard to see, but the Scriptures declare it true. If we are honest with ourselves, we might be on someone else's list of unloveable people with the image of God hard to find in us.
The scriptures repeatedly tell us to love both God and our neighbour. The very hallmark of our faith is our love.
A new commandment I give to you, that you love one another: just as I have loved you, you also are to love one another. By this all people will know that you are my disciples, if you have love for one another. John 13:34-35
Beloved, let us love one another, for love is from God, and whoever loves has been born of God and knows God. Anyone who does not love does not know God, because God is love. In this the love of God was made manifest among us, that God sent his only Son into the world, so that we might live through him. In this is love, not that we have loved God but that he loved us and sent his Son to be the propitiation for our sins. Beloved, if God so loved us, we also ought to love one another. No one has ever seen God; if we love one another, God abides in us and his love is perfected in us. 1 John 4:7-12
If we truly love God, it follows that we would love people created in His image.
The fact that the image we bear is incomplete and distorted does not negate its presence. It is there, and with the help of the Holy Spirit, we can choose to love even the most unloveable of people.
God did that for you and me; let us follow His example and love.
May God help us to love our neighbour and one another.
Be Blessed
Hallelu Yah / Praise God
Kevin
Gleanings From The Word
Experience an extraordinary God in ordinary life.
Soli Deo Gloria (For the glory of God alone)
__________________________________________
Please like and share this post with friends and your circle of influence. Also, feel free to comment.
Did you know that we have an email version? Subscribe today https://mailchi.mp/f27bbeb09c22/ gleanings-1 
______________________________
All contents, "Gleanings From The Word" and "Experience an Extraordinary God in Ordinary Life," are © 2001, 2023 K.F. "Kevin" Corbin Gleanings From The Word.
Unless otherwise noted, all Scripture is from the English Standard Version (ESV).
___________________________________________
#Gleanings #theWord #devotional #encouragement #Biblestudy #faith #dailyBible #verseoftheday #GleaningsFromTheword #KevinCorbin #bible #jesus #god #faith #christian #love #Christ #Father #pray #Holyspirit #YHWH #yahweh #Jehovah #bibleverses #jesuschrist #church #prayer #christianity #scripture #gospel #hope #truth #godisgood #worship #believe #blessed #amen #grace #Word #Imagebearers #GodsImage #Reflection #walking #Hiking #CampbellValley #Langley #puddles #parks