Issue 1301 – Power – November 18, 2023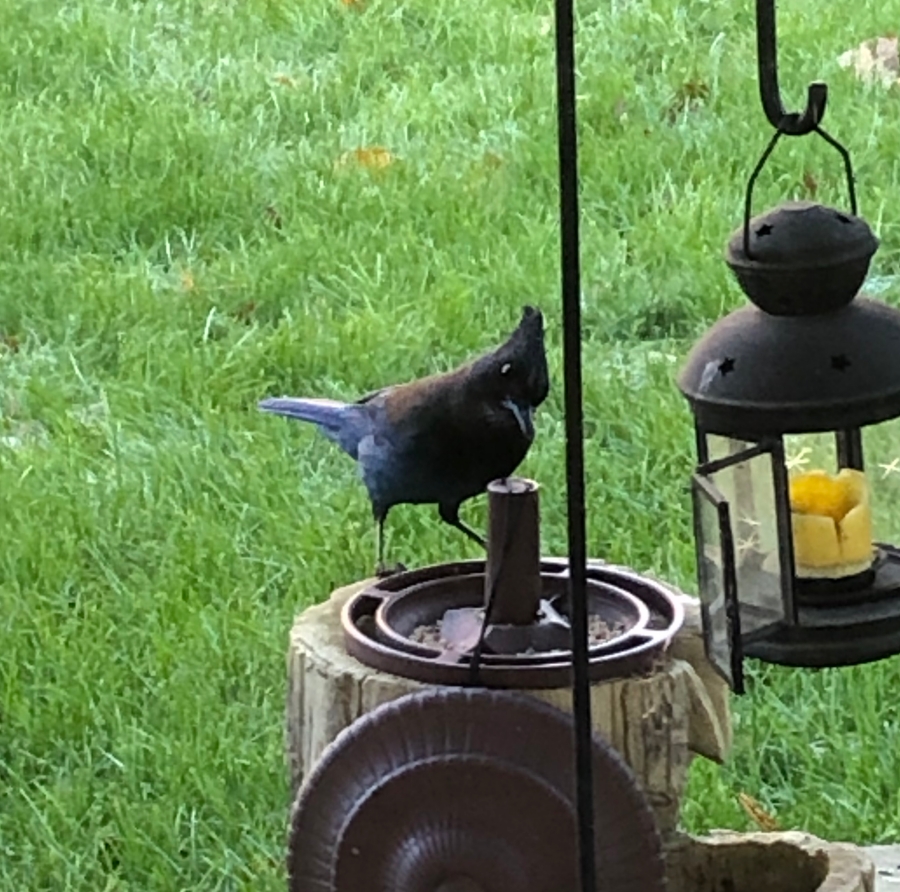 Our backyard is a popular resting spot for a wide variety of birds. The cedar hedges and assorted trees provided safe places to rest and nest. Water features provide cool places to bathe and drink during the hot summer months.
Behind our home is a grassy park with plenty of trees that merge into a large hillside covered in wildflowers, grasses and blackberry bushes. Atop the hill is a former dairy farm with plenty of open pasture.
All that varied habitat means we see many birds, large and small. The list changes depending on the season and migration patterns.
One feeder is less than ten feet from the front door and visible from my office, also known as the snuggery or the abyss, depending on what I am working on.
The birds seem to come in waves. There will be many birds for a while, followed by many again, then the cycle repeats.
The visitors come grouped by size and species. The smallest birds seem most content to socialize with other small birds. The chickadees can be found with the juncos and various small sparrows. The larger sparrows and thrushes tend to bully each other, and the smaller birds.
The title "king of the heap" falls to the Stellar's Jay. They chase all the other birds away until they have had their fill. There is a hierarchy within the jays; the big jays bully the smaller ones.
At one point yesterday, five or six Stellar's were vying for the prime spot at the feeders. They had chased everything else away.
Suddenly, out of nowhere, a huge black squirrel came thundering to the feeder area. The jays exploded out of the feeder and were gone like a shot. As the squirrel chose the finest morsels, one of the neighbourhood cats made an appearance. The squirrel quickly remembered that discretion was the better part of valour and made his own hasty exit.
That is the way of our fallen, sin-filled world. The rich and the strong bully the poor and the weak. I know there are exceptions; I am speaking in generalities. Even governments and other institutions designed to assist the greater good get corrupted and abuse their powers.
We could debate what makes it that way, but the truth is that the abuse of power and wealth is the norm in many ways. It starts early in childhood, and for many people, it continues to the grave. I don't know how it would be possible to calculate the damage created by the desire for power and wealth. It has destroyed uncountable lives.
God calls His children to a countercultural approach to life.
We are called to lives of generosity and servant leadership. We are called to be peacemakers, not power brokers. God commands us to love the unloveable and our enemies. We are to be radical forgivers.
God calls us to live in this world but not be part of it. We have been set apart to show the world the better way.
In what has come to be called "the High Priestly Prayer," Jesus says
"I have manifested your name to the people whom you gave me out of the world. Yours they were, and you gave them to me, and they have kept your word. Now they know that everything that you have given me is from you. For I have given them the words that you gave me, and they have received them and have come to know in truth that I came from you; and they have believed that you sent me. I am praying for them. I am not praying for the world but for those whom you have given me, for they are yours. All mine are yours, and yours are mine, and I am glorified in them. And I am no longer in the world, but they are in the world, and I am coming to you. Holy Father, keep them in your name, which you have given me, that they may be one, even as we are one. While I was with them, I kept them in your name, which you have given me. I have guarded them, and not one of them has been lost except the son of destruction, that the Scripture might be fulfilled. But now I am coming to you, and these things I speak in the world, that they may have my joy fulfilled in themselves. I have given them your word, and the world has hated them because they are not of the world, just as I am not of the world. I do not ask that you take them out of the world, but that you keep them from the evil one. They are not of the world, just as I am not of the world. Sanctify them in the truth; your word is truth. As you sent me into the world, so I have sent them into the world. And for their sake I consecrate myself, that they also may be sanctified in truth. John 17:6-19
In a world of power and identity politics, stand fast for Christ. We won't be perfect at it, but through Him, we can shed a light that some might be freed.
Be blessed
Hallelu Yah / Praise God
Kevin
Gleanings From The Word
Experience an extraordinary God in ordinary life.
Soli Deo Gloria (For the glory of God alone)
__________________________________________
Please like and share this post with friends and your circle of influence. Also, feel free to comment.
Did you know that we have an email version? It has the same great content but in a different format. Subscribe today https://mailchi.mp/f27bbeb09c22/gleanings-1
___________________________________________ 
All contents, "Gleanings From The Word" and "Experience an Extraordinary God in Ordinary Life," are © 2001, 2023 KF "Kevin" Corbin Gleanings From The Word.
Unless otherwise noted, all Scripture is from the English Standard Version (ESV).
___________________________________________
#love #peace #hope #Gleanings #theWord #devotional #gospel #Christian #hope #encouragement #Biblestudy #faith #dailyBible #verseoftheday #grace #KevinCorbin #god #life #Jesus #father #son #HolySpirit #grace #mercy #birds #squirrels #junco #Sparrows #Chickadees #jays #StellarsJay #power #humility #service