Issue 816 – False Teaching – Seven Churches Part 4 – August 4, 2022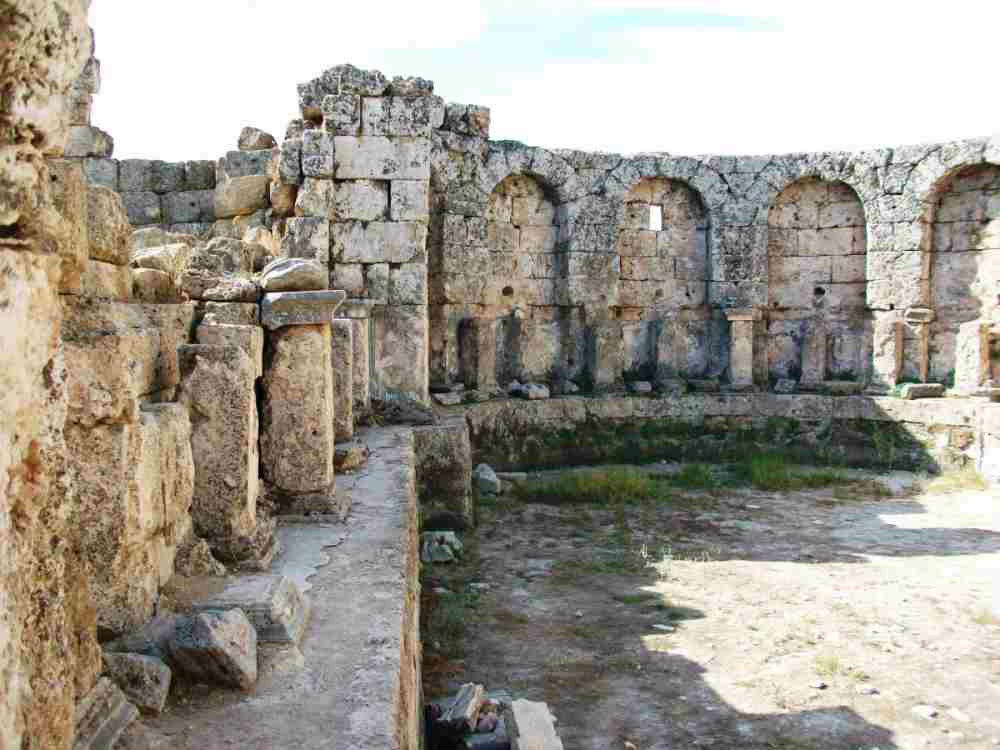 This morning we return to our series on the seven churches of Revelation. The letters were distributed as part of John's Revelation of Jesus the Christ.
Each of the seven churches would have seen the Lord's report card on the other churches. I wonder how we would feel if the Lord took six other churches that we know and critiqued the seven of us in a way that we could each see the other.
Some of the words He wrote are loving but quite strong. I wonder where He would lovingly criticize the congregations each of us attend.
The third church along the Roman postal root in Asia Minor (modern-day Turkiye) is Pergamum. The ruins stand today, but there is no longer a community living there.
"And to the angel of the church in Pergamum write: 'The words of him who has the sharp two-edged sword. "I know where you dwell, where Satan's throne is. Yet you hold fast my name, and you did not deny my faith even in the days of Antipas my faithful witness, who was killed among you, where Satan dwells. But I have a few things against you: you have some there who hold the teaching of Balaam, who taught Balak to put a stumbling block before the sons of Israel, so that they might eat food sacrificed to idols and practice sexual immorality. So also you have some who hold the teaching of the Nicolaitans. Therefore repent. If not, I will come to you soon and war against them with the sword of my mouth. He who has an ear, let him hear what the Spirit says to the churches. To the one who conquers I will give some of the hidden manna, and I will give him a white stone, with a new name written on the stone that no one knows except the one who receives it.' Revelation 2:12-17
Pergamum is "where Satan's throne is" and"where Satan dwells." Is this a reference to the literal dwelling place of the Accuser, or does it refer to the strong spiritual warfare against believers living here or their persecution? Commentators have divergent opinions, but the original audience would certainly have understood. However we choose to take that phrase, at the least, we can assume it to mean the believers were coming against solid opposition.
At least one member, Antipas, was martyred for his faith. We know else nothing of him from the Scriptures. There are some traditions in the Orthodox church about him, but they are from at least 1,000 years later and suspect. All we know for sure is that Antipas held to his faith and was killed for it.
This is a church in turmoil. Some significant part of the Pergamum church remains faithful to the truth, even to the point of martyrdom. Yet all is not well because the Lord condemns two sets of false teaching within the congregation.
While the Lord doesn't provide a breakdown, I think it is safe to assume a good percentage of the people followed the two sets of false teaching. Were it only one or two people, I doubt He would have brought in such a strong warning. Yet, large groups or not, The Lord is clear that some teachings are not just inappropriate or wrong thinking, but sin.
There is always danger in trying to rewrite the gospel's truth or interpret it in ways that make it more culturally accommodating or welcoming. The church belongs to Christ, and He has every right to determine truth and error.
Even here, where the errors are evident, Christ's first move is to call them to repentance. He prefers mercy to judgement, but judgment must follow if we do not acquiesce to His truth.
Next time we will continue to look at Pergamum.
Hold to the truth, my friends. Trust Christ and His word and refuse the temptation to compromise on it.
Hallelu Yah (Praise God)
Be blessed
Kevin.
Gleanings From The Word.
Experience an extraordinary God in ordinary life.
Soli Deo Gloria (for the glory of God alone.)
_____________________________
All contents are © 2001, 2022 K. F. "Kevin" Corbin and Gleanings From The Word.
Check us out on the web at https://gleaningsfromtheword.com and follow us on Facebook and Twitter.
Never miss an issue. Subscribe to our email version today https://mailchi.mp/f27bbeb09c22/gleanings-1
Unless otherwise noted, all Scripture references are from the English Standard Version (ESV).
____________________________
#devotional #biblestudy #dailybible #bible #love #joy #gleanings #KevinCorbin #jesus #god #faith #christian #Christ #Father #bibleverses #prayer #church #forgiveness #Holyspirit #pray #jesuschrist #worship #Biblereading #believe #dailybiblereading #dailybible #devotional #discipleship #scripture #gospel #hope #truth #worship
#Pergamum #Turkiye #SevenChurches #Revelation #martyrdom #devotional #falseteaching